So, you have put in the work and have finally shed that stubborn extra weight, congratulations! While you are now a healthier version of yourself, you may notice that you are left with excess skin and tissue on your body, including on your chest. This can result in the look of enlarged breasts, which some people call "man boobs". Thankfully, gynecomastia surgery after weight loss is an effective solution to help you enjoy your new body without that excess tissue. Read on to learn more about what gynecomastia is, what to expect during surgery, and how this procedure can be especially beneficial after losing weight.
What is Gynecomastia?
Gynecomastia is a common condition that causes an increase in breast tissue on the male chest. It is usually caused by hormonal changes or an imbalance in hormone levels, but may also be caused by certain medications, certain drugs, and the use of anabolic steroids. Surgical correction is often the best option for those who have not found success with other avenues.
What to Expect During Gynecomastia Surgery After Weight Loss
Gynecomastia surgery after weight loss requires the expertise of a board-certified gynecomastia specialist. There can be a large amount of skin, fat, and tissue after weight loss that requires special skills for reduction beyond the traditional male breast reduction surgery.
For some men, the 2 stage procedure is an excellent solution to remaining tissue and skin after weight loss. The first stage reduces the amount of skin and tissue by excision in a doughnut shape around the areola which is then closed with purse string-type sutures. The second stage can be done as an office procedure under local anesthesia.
The 2 stage procedure is not an option for some men with excessive amounts of skin to be removed. In order to achieve a more masculine chest, your surgeon will need to make incisions around the areola, and vertical to the breast crease, known as an inverted T or the anchor incision. This incision will leave visible scars, but most men are comfortable with the trade-off.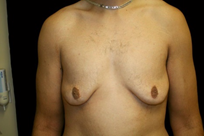 Gynecomastia After Weight Loss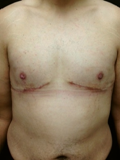 After Gynecomastia Surgery
Unless the patient is prone to keloids or developing raised scars, the incision heals nicely. However, for those who end up with more visible scarring, there are several treatments today that can minimize the final result. A skilled gynecomastia surgeon will use deep suturing techniques to reduce tension on the skin.
Silicone sheeting has proved to be a good treatment once the incision has healed by keeping the skin hydrated. Steroid injections, massaging, and laser treatments are all possible treatments. For the most difficult scars, scar revision surgery may be needed.
Schedule a Consultation Appointment
For the best possible results, it is important that you seek out a skilled, board-certified plastic surgeon to perform your male breast reduction surgery. With more than 30 years of success treating gynecomastia patients, you can feel confident that you are in good hands with Dr. Delgado. To learn more about gynecomastia surgery and if it is right for you, please contact Dr. Delgado today to schedule a consultation appointment.
Gynecomastia Surgery FAQs
Is gynecomastia surgery a cosmetic surgery?
Yes, if a surgery is electively chosen for cosmetic reasons, it is considered a cosmetic procedure. Gynecomastia surgery falls under this umbrella.
Can obesity cause gynecomastia?
Those who are experiencing enlarged male breasts due to excess fatty tissue have what is known as pseudo-gynecomastia. Weight loss is an effective way for those who are overweight to reduce the size of their chest.
What can I expect during a consultation?
During a consultation, you will have a chance to speak with Dr. Delgado regarding your medical history and the reason for wanting to correct your gynecomastia. He will determine if you are an ideal candidate and then create a personalized treatment plan to help boost your self-confidence and overall sense of well-being.