RE: REVIEW ARTICLE TITLED :
BREAST CANCER INCIDENCE IN ADOLESCENT MALES UNDERGOING SUBCUTANEOUS MASTECTOMY FOR GYNECOMASTIA.
IS PATHOLOGICAL EXAMINATION JUSTIFIED?
AUTHUR:  John Koshy, M.D. from the location of plastic surgery, Baylor College of Medicine and the Department of Pathology.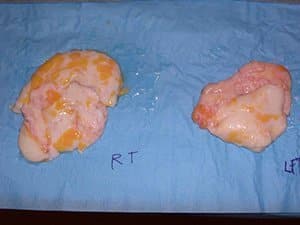 REVIEW OF ARTICLE:
This is a question that every surgeon asks himself when removing tissue from the human body.  This tissue such as fat from liposuction or excised skin from a face-lift or tummy tuck is not at issue but any abnormal tissue becomes a question.  Is it justified to send gynecomastia tissue pathology in men under 21 years old is this the question asked by this article?
John Koshy, M.D., at Baylor performed a retrospective or three major hospitals in Texas from 1999 to 2010 looking at the tissue pathology of patients less than 21 years old.  They also performed a literature review from 1965 to 2010 of men less than 21 years old who underwent male breast reduction for gynecomastia.  In addition, they did an informal survey of 61 major children's hospitals across the country if gynecomastia tissue was routinely sent to pathology.
Gynecomastia Pathology results:
The ten-year review of 81 patients of men less than 21 years old revealed no cases of breast cancer.  The quota cost for the pathology was $1,260.00 as the out-of-pocket cost.
LITERATURE REVIEW
2,000 articles were reviewed.  There were only 36 articles to discuss cases of adolescent Gynecomastia.  Over a 35-year period, 615 cases were examined.  The average age of the patient being 17 years old.  The pathology revealed six cases of cancer.
INFORMAL SURVEY
22 of 61 hospitals gave responses in 18 states either routinely performed or required histological exam of gynecomastia of breast tissue excised from men with gynecomastia.
CONCLUSION FROM THE STUDY:
The incidence of abnormal pathology in adolescent men is rare.  There seems to be little benefit in the routine histological exams, and the current policy and procedures should be reviewed.
Based on this study, routine microscopic exams of men 21 years of age or less should not be routinely done or required.  This can be performed when desired by the patient, patient's family, or managing physician.
gynecomastia.psstage.com does not give advice or options to try to produce educational and permission for its readers.
Reviewed by,
Miguel Delgado, M.D.
www.gynecomastiaspecialist.com