Dr. Delgado is a highly skilled surgeon specializing in gynecomastia surgery. Dr. Delgado has committed a significant amount of his practice to the care and education of men and boys with gynecomastia. Dr. Delgado's practice philosophy is to provide the highest quality of patient care to the people who seek out his professional services. Dr. Delgado and his staff are committed to understanding their patients concerns, educating them on their options, and executing the best surgical outcome for each patient. Dr. Delgado is the new owner of Gynecomastia.org since 2010. He has dedicated a significant part of his life and practice to improving the Gynecomastia.org community.
Generally, the goal of gynecomastia surgery is two-fold: To restore the normal contours of the male breast and to correct any type of deformity of the breast, nipple, or areola (the colored circle around the nipple). The choice of surgical technique depends largely on the likelihood of "skin redundancy," a term for the excess skin that does not contract following surgery.
Breast Tissue Removal – Follow leading gynecomastia surgeon Dr. Miguel Delgado into the operating room to see how he performs mastectomy surgery on a gynecomastia patient. The patient, a body builder, has developed excess breast tissue due to years of steroid use.
Standard Surgical Treatment for Gynecomastia
---
The most common treatment for gynecomastia, also referred to as "male breast reduction" is a combination of breast gland removal and liposuction. This dual approach works to better blend the fat component into a more natural looking male chest and can successfully treat roughly 80% of men with true gynecomastia.
The key to an optimal outcome is higher skin elasticity and contractility – the type of skin typically found in younger men. However, there are a variety of surgical techniques that can address "skin redundancy".
Conditions affecting skin quality and surgical outcome:
Obesity or excessive weight gain
Massive weight loss
Natural aging
Photo-aging or sun damage
Limitations of Liposuction
---
In general, male breast reduction surgery is a straightforward surgical procedure. The key is to employ an approach that results in the best outcome – and liposuction alone is not the answer.
True gynecomastia has a breast gland component that is quite dense and highly resistant to removal by liposuction alone. While the sharp liposuction instruments manufactured today are designed to break down the breast gland and suction away the breast tissue, this is not the correct treatment for gynecomastia. In fact, it is the number one reason for gynecomastia revision.
On the other hand, liposuction can be a very successful treatment for patients with pseudogynecomastia. Typically, this is a patient who has experienced an increase in the male breast volume as a result of overall bodyweight gain.
Nipple Graft – In some cases it may be necessary to reposition the nipples in gynecomastia patients. Watch Dr. Miguel Delgado perform a nipple graft to correct low and outward pointing nipples.
Liposuction

Tissue Removal

Incision Location
Around the edge of the areola
Around the edge of the areola
How tissue is removed
Fatty tissue is mechanically removed using suction
In many gynecomastia cases, glandular tissue can be excised through the incision opening
When it is used
Body contouring, pseudogynecomastia and gynecomastia (to complement other surgical techniques)
Gynecomastia

Pull Through Technique
---
The pull- through technique is a minimally invasive procedure usually recommended for men with a Grade I and Grade II gynecomastia. A small incision of approximately 5 mm is made at the lower edge of the areola and the breast tissue is separated from it. The glandular breast tissue is pulled through the incision as tissue is trimmed away. Liposuction may be used for breast fat removal and blending. The major advantage of this procedure is the small incision.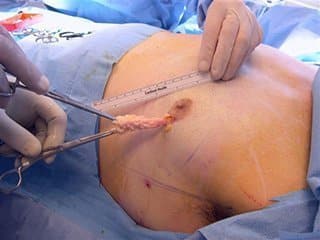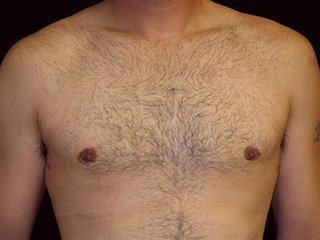 Treatment of Gynecomastia Skin Redundancy
---
Generally, men with Grade III or Grade IV gynecomastia also have a significant amount of excess skin. These cases are often the most challenging to treat because the degree of skin contractility is highly unpredictable.
Younger men tend to have skin that is more elastic and contracts easily and thus may not have excess skin that would need to be removed; however, this is not often the case for older men. If skin redundancy is an issue, treatment may also involve surgically removing the skin. Scarring is inevitable, yet every effort is made to keep scarring to a minimum. A more experienced surgeon will be able to give you an accurate prediction of your outcome.
Two-stage Procedure
---
This is an ideal procedure for men with mild to slightly moderate skin laxity who require minimal skin improvement. The first procedure uses liposuction and an incision around the areola edge to remove gland, fat, and fibrous tissue and create a pleasing contour. The second procedure is safely performed 4 to 6 months later and involves tightening the tissue and raising the nipple. The incision is done around the areola edge to limit scarring. In most cases, skin removal is unnecessary. There is some support for performing both procedures at the same time.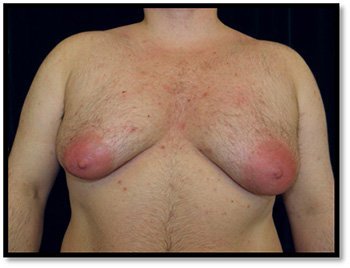 Before: Grade IV Gynecomastia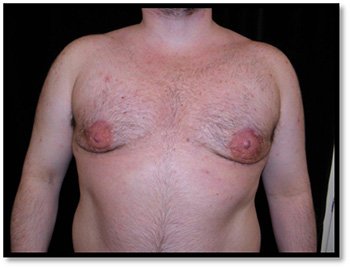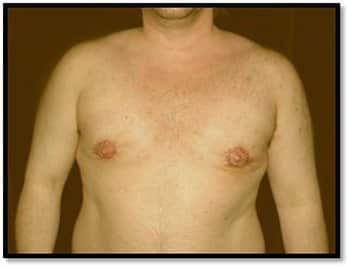 Direct Skin Removal for Severe Gynecomastia
---
Direct skin removal is often recommended for patients who have experienced massive weight loss or who have substantial skin redundancy. The actual procedure is quite straightforward, however, it does result in significant scarring.
One of the most important issues to address is the position of the nipple and areola, often referred to as the nipple areola complex. This can be done in one of two ways: A free nipple graft can be performed by temporarily removing the nipple areola complex (see the photo below) and reattaching it to the chest or by keeping it attached to a vascular blood supply. Both options yield excellent results.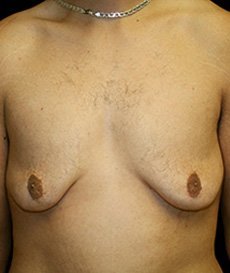 Before Skin Removal and free Nipple Graft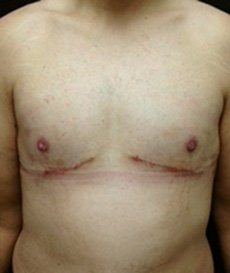 After Skin Removal and Free Nipple Graft

©Copyright 2018 Gynecomastia.org. All rights reserved. Use and access to this site are subject to the terms and conditions as set out in our Legal Statement and Privacy Statement.
The content on Gynecomastia.org is for educational purposes only. It is not intended as medical advice. It does not replace the need to meet with a physician who will accurately diagnose your condition and suggest treatment options.