George Sanders M.D.
---
Biography
Dr. Sanders was born and raised in Texas, Dr. Sanders graduated Phi Beta Kappa from Rice University. He attended Harvard Medical School where he was elected to the Aesculapian Club for excellence in scholarship and leadership. He then completed his general surgery training as the Chief Resident at Cedars-Sinai Medical Center where he earned the Leo Rigler Award for excellence in surgery. His plastic surgery residency was completed at UCLA where he studied with a number of well-known cosmetic and reconstructive surgeons. He lives in Southern California with his wife and children and he is active in church and community affairs.
Philosophy
The treatment of Gynecomastia depends upon individual patient factors such as the amount of excess fat, the degree of laxity of the skin, the amount of excess breast tissue, and patient preferences concerning the scar location. Most patients have a combination of excess breast tissue and excess fat of the breast and chest, although some have only excess breast tissue and others have only excess fat. The general principle is that fat is removed by liposuction and breast tissue is excised, all during the same procedure.
For the patient with excess fat around the breast as well as on the sides of the chest, liposuction is used. Dr. Sanders employs various methods of liposuction including Power Assisted Liposuction (PAL), ultrasonic liposuction (UAL), and microliposuction that involves tiny suction tubes and equally tiny incisions. Each of these techniques has its particular advantages and disadvantages. In consultation with the patient, a decision will be made as to which to use.
For the patient with excess breast tissue, removal is usually done by means of a miniaturized shaving device that trims away the breast tissue that is located directly beneath the nipple and areola. The device is inserted through the small liposuction incision on the side of the chest, thus avoiding a scar around the areola. This technique allows one to avoid drains after surgery and involves no additional scarring. In other cases a tiny incision just below the areola is used through which the breast tissue is removed with an equally tiny instrument.
In those cases where excess skin is present due to factors such as patient age or a history of significant weight change, it may be necessary to remove skin from the breast to give an excellent result. In most cases, the skin will shrink down over a period of several months following liposuction and removal of the breast tissue. If it does not shrink down after surgery or if it is obvious before surgery that excess skin is present, the skin is removed. This can be done at the time of the initial surgery for gynecomastia excision. The skin removal usually takes the shape of a circular strip of skin around the areola. This leaves a final scar that encircles the areola and which is usually very well accepted by patients. In most cases, though, there is adequate skin shrinkage after surgery so that no skin removal is required.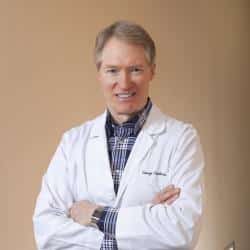 Certifications
American Board of Plastic Surgery
American Society of Plastic Surgeons
American Society of Aesthetic Plastic Surgery
Procedures Offered
Gynecomastia Excision with Microsurgical Shaver
Gynecomastia Excision with Areolar Microincision
Tumescent Liposuction via SAFE Liposuction, PAL, and UAL Techniques
Skin Tightening as needed following Gynecomastia Excision
Years Practicing Gynecomastia Surgery
25 years
Address
Dr. George Sanders
16633 Ventura Blvd., Suite 110
Encino, CA 91436
Average Number of Gynecomastia Surgeries Performed per Year
50